All SMT machines in house
High-end instruments

Climatic chamber
---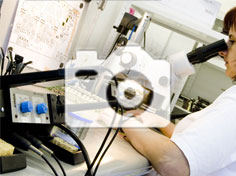 ---
WHO ARE WE?
RACOM
is one of the leading global players in SCADA & Telemetry data transfer.
RACOM
is a significant development trend-setter in this field.
RACOM
is a private company still owned by its Czech founders.
RACOM
has enjoyed steady growth and profitability throughout its entire existence.
Every year, for a quarter of a century.
WHAT DO WE DO?
RACOM
is involved in the development and production of equipment for wireless data transfer. Our three main product lines are
Radio modems
,
GPRS/EDGE/UMTS routers
and
Microwave links
.
RACOM
is a modern company with its own technological centre for SMT and hybrid assembly, a subsidiary company, RACOM SLOVAKIA, and an extensive network of international partners, who ensure that we continue to export the majority of our products.
HOW DID WE GET HERE?
RACOM's
foundations were laid in 1989, shortly before the fall of Communism in the former Czechoslovakia. Initially, we were making equipment for radio amateurs in a small workshop. It wasn't long before we were successfully exporting our products.
The local radio amateur market soon became too small for us.
We made a conscious decision to enter the wireless data transmission market.
In 1990 we began by manufacturing
radio modems
.
In 2005 we entered the
GSM data transfer
market.
In 2009 we entered the
microwave links
market.
But we know we have our many customers to thank for our success.
HOW ARE WE DOING?
RACOM
operates with no debts with cash-flow also managed internally. This excellent record not only proves the merits of
RACOM 's
technology and continued market success, but lasting customer satisfaction; and the right level of management skill to take
RACOM
forward in this progressive technology market.
SO WHAT?
RACOM
products clearly do work.
The supplier has to be as reliable as the products.
The acid test is your supplier's success record.
RACOM
facts speak for themselves.
Let's build success, together.
RACOM
---
Historic milestones
1989
R2CW – CW/SSB transceiver for the 145 MHz band

1991
RD160, first radio modem – 1.2 kbps, 160 MHz

1994
RD300FS – 9.6 kbps, 300 MHz

more than 1000 modems manufactured and installed

1996
MORSE system

MR25 – 21.68 kbps

entry to foreign markets, establishment of RACOM SLOVAKIA

1997
first mobile MORSE network

1999
MODANET – public nationwide packet data network

2000
MR25ET, version of MR25 with Ethernet interface for IP environment

2001
RANEC – software for management of MORSE system network

2005
MR400 – new generation of narrowband radio modems

MRouters

MG100 – GPRS modem

2006
MX160 – 132 kbps / 200 kHz

2007
RE400 – new transparent ECONOMY modem

2009
MG102 – GPRS/EDGE/UMTS modem

RAy – microwave point-to-point bridge

2011
RipEX – Radio modem & Router

2012
M!DGE – GPRS/EDGE/UMTS router

RAy – 11 GHz

2013
RAy – 17, 24 GHz


Smooth Connections – article in Inside Industry Magazine 05/2014, page 148