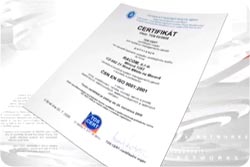 During its existence RACOM has built-up a stable organisation based on honest and trustworthy conduct, high-quality manufacturing and the provision of technical support to its customers. RACOM is aware of the need for continuous improvement and development of its activities which lead to satisfying the needs and expectations of its customers.
RACOM's management has therefore defined and introduced a documented quality management system complying with the requirements of the ISO 9001 standard for the branch of the development, design, manufacture, installation, servicing and sale of electrical, electronic, telecommunications and radio equipment, and has subsequently obtained ISO 9001:2008 certification.
RACOM's quality management policy is strongly linked to the strategic objective of becoming one of the leading companies, both in the Czech Republic as well as around the world, in the field of the "Development and manufacture of radio modems and communication equipment".
Quality management policy
Technically advanced products
Products of the highest quality
Advanced technical support for customers
Flexible and speedy deliveries
Maximum sales volume