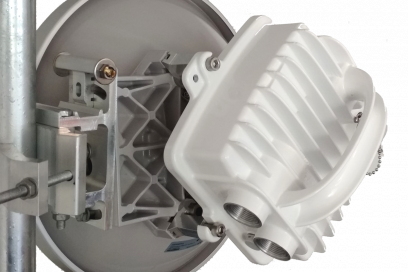 RAy3-24 gets North American green light
RACOM has received certifications for RAy3-24 from FCC (USA) and IC (ISED Canada) allowing us to commence sales of our latest Microwave radio into these important markets.
RAy3-24 – the 3rd generation Microwave link is built on the strengths of its predecessor. Since 24 GHz license free band is narrower in the US (200 MHz), RAy can provide 713 Mbps FDD data speed in symmetric duplex compared to 1 Gbps in Europe (250 MHz). When asymmetric channels are used, 1 Gbps can be achieved in one direction and 540 Mbps in the opposite direction. This makes RAy the top equipment for license free bands.
Spectrum efficiency, excellent reliability and ease of installation and configuration are among other features that help provide the highest throughput in any environment and add to the success of this radio since its launch in 2018.
To support product roll out in North America, RACOM will be ably supported by our partners in the region.
In Canada, we are represented by Extreme Technology Corporation, founded in 2001 and headquartered in the Niagara Region of Ontario, Canada. During the past 17+ years, Extreme Technology Corporation has built a strong reputation among its various SME, Fortune 500 and Enterprise customers. ETC's technical prowess and flexibility in developing robust solutions has helped the company become a leader in its markets.
Our partner in the United Sates is Cable AML, a world leader in Broadband Wireless Systems, High-Capacity Microwave Links, Wireless Internet, and Digital Video Broadcast Systems. Cable AML's customers include the largest Wireless, Cable TV and Digital Television Broadcast companies in the US.
RACOM will be attending Wispapalooza from 14th to 18th October 2019 in Las Vegas to support Cable AML demonstrate the RAy3-24 to the North American market. We would be happy to meet you during this event.