Don't connect radio modem in your LAN before settings! Default IP address of radio modem may be already used in your network.

Do not switch on more than one radio with default settings at any one time! Only switch on the next one after setting and storing IP parameters in the first one.

Interconnect ETH connector of radio modem with your PC using standard cable.

Switch on power (PoE or AUX). PWR and ETH LED have to light. After 20 sec. STATUS starts to blink in green.

Set IP and mask of your PC to 192.168.1.233, mask 255.255.255.0.

Start www browser on address 192.168.1.2.

Set radio modem configuration and Save it.

Select a unique IP address of each radio modem within the network.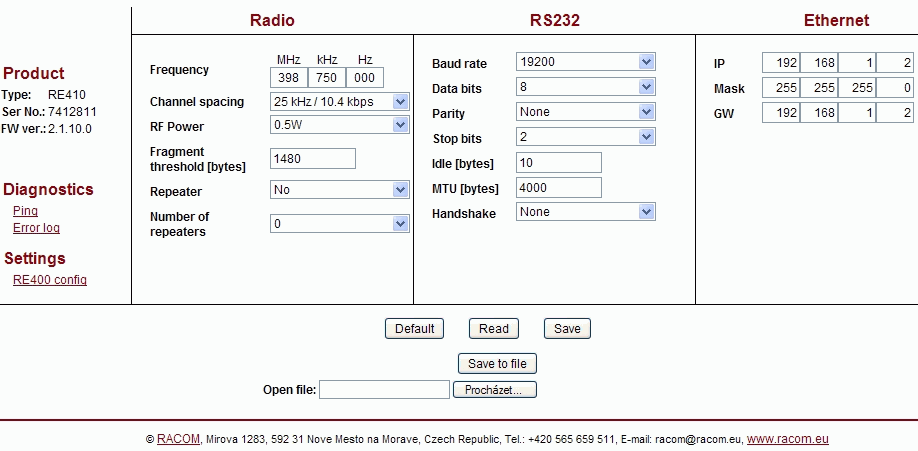 When IP address is changed, conection with radio modem is lost. Next communication is possible after change of IP address in www browser, possibly in your PC.

Connect application to radio modem via ETH or SCC.

Communication is indicated by LEDs (see manual).

Before configuring the next radio delete table Art (Start, Run, arp -d) in the PC.
Tab. 2: Technical parameters
Frequency range
RE400: 373.25–484 MHz
Channel bandwith
25 kHz or 12.5 kHz or 6.25 kHz *
Frequency step
5 kHz or 6.25 kHz
Method of setting working frequency
software
Rx/Tx switching time
< 1.5 ms
Data security on RF channel
32 bit CRC
Receiver sensitivity for BER 10-3
better than -107 dBm
Output power software adjustable
Low
0.5 W
High
2 W
Data rate in RF channel
2.6 kbps in 6.25 kHz channel *
5.2 kbps in 12.5 kHz channel
10.4 kbps in 25 kHz channel
Interfaces
Ethernet, RS232
Antenna connector
SMA
MTBF (Mean Time Between Failures)
>100 000 hodin
Power method
AUX
PoE
Power supply
10.8–30 V (nomin. 13.8 V)
38–57 V
Power consumption (cca)
Idle state (Rx)
430 mA/13.8 V
145 mA/48 V
Low power Tx
700 mA/13.8 V
230 mA/48 V
High power Tx
950 mA/13.8 V
310 mA/48 V
Operating temperature range
-25 až +55 °C
Storage temperature range
-35 až +85 °C
Case dimensions
137 × 96 × 31 mm
Weight
0.3 kg
* Channel spacing 6.25 kHz is not approved under EU rules.