RipEX2 is a radio modem platform renowned for overall data throughput in any real-time environment. RipEX2 radio modems are native IP devices, Software Defined with Linux OS that have been designed with attention to detail, performance and quality.
RipEX2 is built into a rugged die-cast aluminium casing that allows for multiple installation possibilities, see Section 4.1, "Mounting".
All connectors are located on the front panel. The upper side features an LED panel. The RESET button is located in an opening in the bottom side.
An antenna can be connected to RipEX2 via TNC female 50Ω connector.
RipEX2 is equipped with two connectors. The Tx/Rx connector will be used for common transmitting and receiving single antenna installation (even with different Rx and Tx frequencies).
Both Rx and Tx/Rx connectors for split installation (two antennas or duplex operation with duplexer) – Rx for receiving and Tx/Rx for transmitting.
Warning

RipEX2 radio modem may be damaged when operated without an antenna or a dummy load.
This rugged connector connects to a power supply and it contains control signals. A Plug with screw-terminals and retaining screws for power and control connector is supplied with each RipEX2. It is Tyco 7 pin terminal block plug, part No. 1776192-7, contact pitch 3.81 mm. The connector is designed for electric wires with a cross section of 0.5 to 1.5 mm2. Strip the wire leads to 6 mm (1/4 inch). Isolated cables should receive PKC 108 or less end sleeves before they are inserted in the clip. Insert the cables in the wire ports, tightening securely.
Tab. 1.1: Pin assignment
Pin
Labeled
Signal
1
SI
SLEEP INPUT


pull below 1.1 VDC to activate (1.1 VDC / 1.9 VDC threshold hysteresis)

max. 30 VDC

2
AI
HW ALARM INPUT


pull below 1.1 VDC to activate (1.1 VDC / 1.9 VDC threshold hysteresis)

max. 30 VDC

3
−
−(GND) – for SLEEP IN, HW ALARM INPUT
4
+
+(POWER) – for HW ALARM OUTPUT
5
AO
HW ALARM OUTPUT
open drain output max. 30 VDC, 1 A
6
+
+ POWER (10 to 30 V)
Undervoltage threshold 8.5 VDC
Overvoltage threshold 41 VDC
7
−
− POWER (GND)
Pins 3 and 7 are connected internally.
Pins 4 and 6 are connected internally.
HW ALARM INPUT

HW ALARM INPUT is a digital input. If grounded (e.g. by connecting to pin 3), an external alarm is triggered.
HW ALARM OUTPUT

HW ALARM OUTPUT is a digital output.
POWER
The POWER pins labelled + and – serve to connect a power supply 10–30 VDC. The requirements for a power supply are defined in Section 4.6, "Power supply" and Chapter 9, Technical parameters.
Standard RJ45 connectors for Ethernet connection. RipEX2 has 10/100/1000Base-T Auto MDI/MDIX interfaces so it can connect to 10 Mb/s, 100 Mb/s or 1000 Mb/s Ethernet network. The speed can be selected manually or recognized automatically by RipEX2. RipEX2 is provided with Auto MDI/MDIX function which allows it to connect over both standard and cross cables, adapting itself automatically.
Pin assignment
Tab. 1.2: Ethernet to cable connector connections
Pin
Signal
Direct cable
Crossed cable
1
TX+
orange – white
green – white

2
TX−
orange
green
3
RX+
green – white
orange – white
4
—
blue
blue
5
—
blue – white
blue – white
6
Rx−
green
orange
7
—
brown – white
brown – white
8
—
brown
brown
ETH5 is a standard SFP slot for 10/100/1000 Mb/s Ethernet SFP modules, user exchangeable with maximal power consumption 1.25 W. Both fibre optic and metallic Ethernet SFP modules are supported. For optical both single and dual mode fibre optics Ethernet modules (= 2 or 1 fibers) can be used. CSFP modules are not supported. RACOM offers all mentioned types of SFP modules, tested to be RipEX2 compatible as a standard accessory.
The SFP status LED is located just next to the slot. It is controlled by SFP module. Its function is specific for each SFP module. The typical behavior is an indication the received signal from the fibre optic or metallic link to be within operational range.
Important

It is strongly recommended to use a high quality SFP module with industry temperature range. The SFP modules listed in Accessories are thoroughly tested by RACOM and are guaranteed to function with RipEX2 units. It is possible to use any other SFP module, but RACOM cannot guarantee they will be completely compatible with RipEX2 units.
RipEX2 provides serial interface COM terminated by DSUB9F connectors. It can be configured as RS232 or RS485.
RS232 of RipEX2 is a hard-wired DCE (Data Communication Equipment) device. Equipment connected to the serial port of RipEX2 unit should be DTE (Data Terminal Equipment) and a straight-through cable should be used. If a DCE device is connected to the serial port of RipEX2, a null modem adapter or cross cable has to be used.

RS485 of RipEX2 is not galvanic isolated and it is not terminated.
Tab. 1.3: COM pin description
DSUB9F
COM – RS232
COM – RS485
Pin
Signal
In/ Out
Signal
In/ Out

1
CD
Out
—
2
RxD
Out
line B
In/Out
3
TxD
In
line A
In/Out
4
DTR
In
—
5
GND
GND
6
DSR
Out
—
7
RTS
In
—
8
CTS
Out
—
9
—
—
—
RipEX2 keeps pin 6 DSR at the level of 1 by RS232 standard permanently.
RipEX2 uses USB 3.0, Host A interface. USB interface is wired as standard:
Tab. 1.4: USB A Pinout Cable Assembly
Pin
Signal
Wire
1
VBUS
Red

2
D-
White
3
D+
Green
4
GND
Black
5
StdA_SSRX-
Blue
6
StdA_SSRX+
Yellow
7
GND_DRAIN
GROUND
8
StdA_SSTX-
Purple
9
StdA_SSTX+
Orange
Shell
Shield
Connector Shell
The USB interface is designed for the connection to an external ETH/USB adapter or a Wifi adapter. They are optional accessories to RipEX2, for more details see Section 3.3, "Connecting RipEX2 to a programming PC". The adapters are used for service access to web configuration interface of RipEX2 unit.
The USB interface can also be used for an external flash disc connection, which has been specifically designed to simplify complex maintenance tasks, so that these tasks can be performed by unqualified personnel in the field by simple plugging-in an USB stick and waiting until a LED flashes.
The USB connector also provides power supply (5 V / 0.5 A). It can be used to temporarily power a connected device, for instance a telephone. The USB connector should not be used as permanent source of power supply.
AUX SMA female 50 Ohm connector is used for several purposes according to HW variant.
Standard basic model – the AUX is used as an synchronization signal input.
Input frequency range 1 Hz (PPS) – 25 MHz
Input signal level >200 mVp-p @ 220R, up to 5V TTL levels
RipEX2 can be equipped with an internal GPS. The GPS module is used for time synchronization of the NTP server inside RipEX2. In this case the AUX connector serves for connecting the GPS antenna:
active antenna

3.3 VDC supply
Tab. 1.5: Digital Inputs and Outputs
Pin
Signal
1

Differential digital input – Positive – (P)

2

Differential digital input – Negative – (N)

3
GND
4

Digital Output 1

5

Digital Output 2

6
GND
7

Digital Input 1

8

Digital Input 2
Digital Outputs:

Open drain output max. 30 VDC, 0.2 A

Isolated differential digital input:

Input voltage difference (P-N) > 1.9 VDC Logic "H"

Input voltage difference (P-N) < 1.1 VDC Logic "L"

Maximum differential voltage 30 V
Digital inputs:

Schmitt-triggered inverted input

Pull below 1.1 VDC to activate (1.1 VDC / 1.9 VDC threshold hysteresis)

Max. 30 VDC
Tab. 1.6: Key to LEDs
LED
Colour
Style
Function
SYS
Green
Permanently lit
System OK
Flashing – period 500 ms
Reset button pushed
One fast (50 ms) flash – pause (500 ms)
Reset button to reset
Three fast (50 ms) flashes – pause (500 ms)
Reset button factory reset
Flashing – period 1 sec
Save mode
Flashing – period 3 sec
Sleep mode
Red
Permanently lit
Alarm
Flashing regularly – period 500 ms
Serious system error
Orange
Permanently lit
Unit is starting
Three fast (50 ms) flashes – pause (500 ms)
USB attached
Flashing – period 100 ms
Skip go to sleep mode, boot normally
Flashing regularly – period 500 ms
Firmware writing in progress
– DO NOT POWER OFF !
AUX
Green
Permanently lit
Activity
Red
Permanently lit
Alarm
Rx
Green
Permanently lit
Receiver is synchronized to a packet
Yellow
Permanently lit, or flashing in 1 sec
intervals
Rx mode of operation – high resistance (strong interfering signals – above -45 dBm – are present within the frequency band), adaptive mode of receiver operation
Tx
Red
Permanently lit
Transmitting to radio channel
Green
no function
no function
COM
Green
Permanently lit
Data receiving
Yellow
Permanently lit
Data transmitting
| | |
| --- | --- |
| Alarm | – is "On" when any controlled item in Alarm management, (see Adv. Conf., Alarm management for more) is in alarm status (out of thresholds) and "SNMP Notification", "HW Alarm Output" or "Detail graphs start" for any line in the Alarm configuration table are checked. |
| Adaptive mode of receiver operation | Cognitive function of receiving mode selection is implemented in RipEX2. When exposed in a radio environment where strong interfering signals (stronger than -45 dBm) are present, RipEX2 senses them and adaptively increases its resistance to interference (and lowers its sensitivity by 3 dB). When interference holds, RipEX2 stays in high resistance mode of receiver operation and signals this state by turning the yellow RX LED on. Once the interfering signals fade away, RipEX2 automatically returns to its high sensitivity mode of receiver operation. |
RipEX2 radio modem has been designed to have minimum possible number of hardware variants. Different HW models are determined by frequency, internal GPS and separate connectors for RX and TX antennas.
All ordering codes are available on RACOM website. See Ordering information.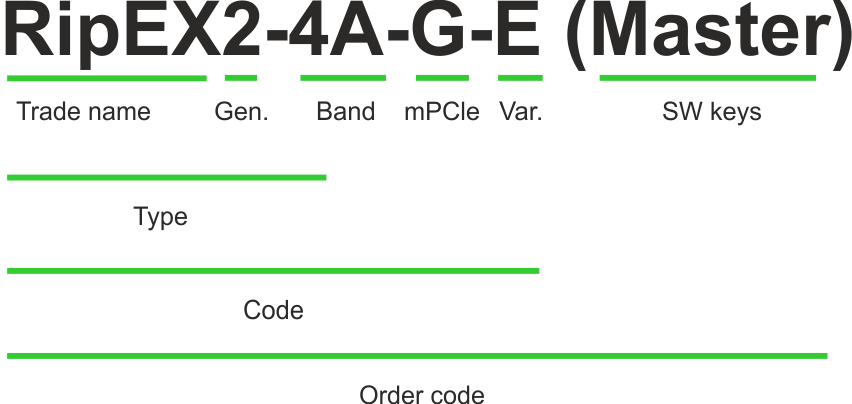 Trade name – trade and marketing name of the product. This name is used for all products within the same product family.
Possible values:

Gen. – generation of the product of specific Trade name. The very first generation doesn't have any number in this position.
Possible values:

Band – frequency band and sub-bandlinebreak
Possible values:

1A: 135-175 MHz

3A: 275-330 MHz (coming soon)

3B: 335-400 MHz

4A: 400-470 MHz

mPCIe – Expansion module (mPCIe module is inserted during production)
Possible values:

N – not used

E, P, A – LTE bands (see Table 9.1, "Technical parameters" for details):

G – GPS (GNSS) module, Part.No.: mPCIe-GPS

C – Expansion 2× RS232, Part.No.: mPCIe-COMS

Note

Only one option for mPCIe slot is possible.

Var. – designation of product variant, if it is used. Generally, more variants can be used within one unit, i.e. more letters can be on this position. These variants can't be ordered and included in the unit later on.
Possible values:

X*– Processor with HW encryption option

N – Processor without HW encryption option. Encryption features will never be possible, neither HW nor SW encryption

E – Processor without HW encryption option. SW encryption possible

* The processor included in the unit uses an encryption module listed as 5A002 a.1 in the COUNCIL REGULATION (EC) No 428/2009, setting up a Community regime for the control of exports, transfer, brokering and transit of dual-use items. Units are subject to export control when exporting outside the European union, according to national, EU and US law (ECCN 5A002 a.1), see Dual-use trade controls.

SW keys – if unit is ordered with SW keys, all keys are specified in this bracket. SW key can be ordered independently for specific S/N anytime later on.
Possible values:

Master – enables all functionalities of all possible SW feature keys, Part No. RipEX2-SW-MASTER

Type – specific product type for which type approvals like CE, FCC etc. are issued.
Possible values:

Code – part of order code which is printed on Product label on the housing (SW keys are not HW dependent and can be ordered later on, so they are not printed on Product label).

Order code – the complete product code, which is used on Quotations, Invoices, Delivery notes etc. In order to find out the correct Order code, please use RACOM WebService.